07/09/23
The Imperial Sunday Roast menu at Tattu Manchester
Starting on September 10th in Manchester, the Imperial Sunday Roast will grace our menu, offering a captivating twist on the classic. Whether you're a meat lover or prefer vegetarian and vegan options, we have something truly exceptional in store for you.
The Imperial Meats include:
Aromatic Roast Duck: succulent duck seasoned with fragrant spices.
Chinese Barbeque Chicken: subtly flavoured with chilli and sweet soy.
Char Siu Pork: marinated and roasted to perfection in Tattu's signature char siu sauce.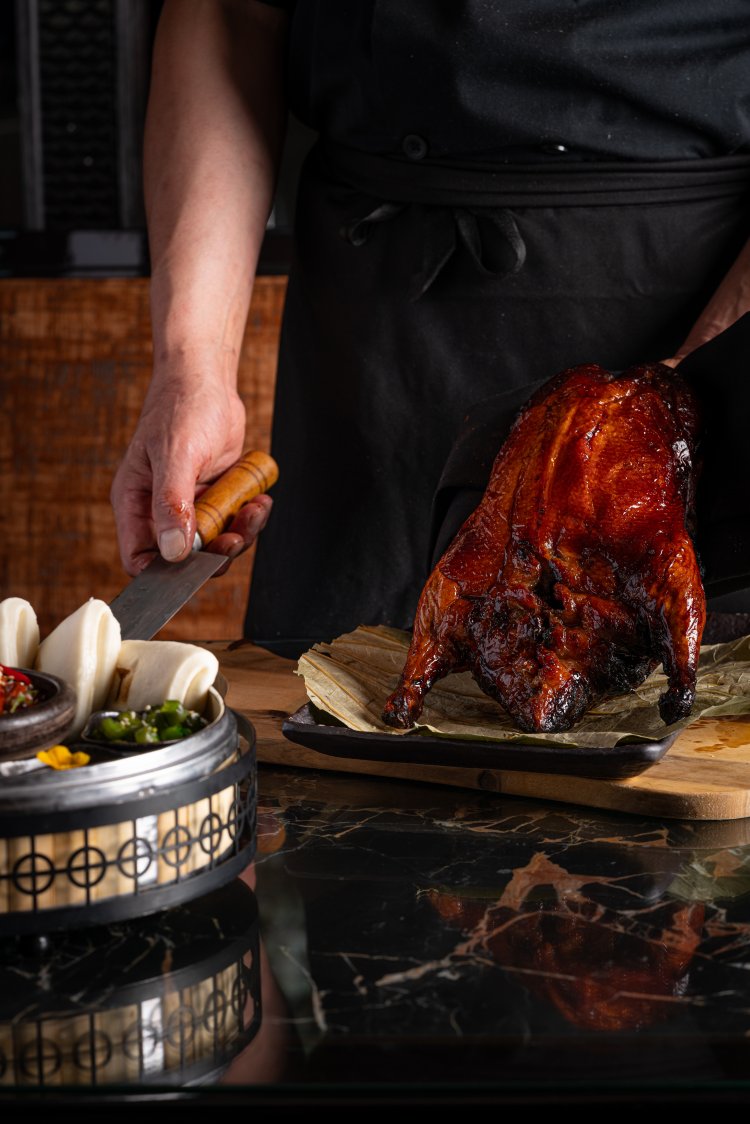 Innovative Vegan Options:
We're also introducing some brand-new and innovative meat-free options. Try our Mock Caramel Soy Beef Fillet with shiitake, ginger, and asparagus – a completely vegan version of our classic and beloved Caramel Soy Beef Fillet. For those seeking a vegan twist on a favourite, we present the Satay Cauliflower with nam jim and peanuts, offering a delightful adaptation of the popular satay ribeye dish.
Sides to Savor:
Complementing these delectable mains, we have an array of sides that will elevate your meal. From soft and fluffy steamed buns to fresh and vibrant pak choi, crispy shallots, ginger, and salt and pepper roast potatoes prepared to perfection with garlic, chilli, and five-spice – every element of your meal is crafted for perfection.
Pricing and Timing:
The Imperial Sunday Roast is available at Tattu Manchester for £32.00 per person between 12 pm and 6 pm. And for those looking to savour the finest flavours, you can upgrade to our signature dish – the Caramel Soy Beef Fillet – for an additional £10 per person.
As you conclude your Tattu journey, indulge your sweet tooth with our irresistible desserts. Try the delightful Asian Pear Sticky Toffee Pudding, infused with cinnamon and vanilla. Alternatively, savour our iconic Cherry Blossom Dessert, a blend of white chocolate, cherry, and candyfloss.
The Perfect Pairing:
To elevate your dining experience further, explore our extensive and thoughtfully curated wine list, featuring a diverse selection of wines from around the world. From rich and robust reds to crisp and refreshing whites, we have the perfect wine to complement your meal.
Forbidden Char Sharing Cocktail:
For a truly unique experience, don't miss our new sharing cocktail – Forbidden Char, made with Bombay Sapphire, peach, and ginger, priced £35. This mysterious, spiced ginger drink is the perfect tonic to cut through all of the deliciously rich components of your Sunday roast.
Mark Your Calendar:
Mark your calendars for September 10th, and embark on an unforgettable Sunday adventure.
Book your table now at tattu.co.uk